CP9361-1 Air Scribe KIT by Chicago Pneumatic | T011970 | 13,500 BPM

SKU:

T011970

UPC:

Availability:

In Stock For Immediate Shipment

Shipping:

Calculated at Checkout
Description
CP9361-1 Kit - Air Scribe kit
CP9361K Air Scribe Engraving Pen Kit (includes case, stylus assortment, hose and filter) i.e. CP9361-1, CP9361-K. This tool is extremely lightweight and easy to use. An adjustment dial on the top of the Chicago Pneumatic CP9361 permits you to select the appropriate power level for your application. Air consumption is extremely low at 1 cfm, and that means your compressor won't be struggling to keep up. Simply connect a compressed air source to this tool via the 8 foot filtered air hose that is included and you are ready to work. An in-line lubricator is recommended to keep your tool working flawlessly and reduce servicing requirement. For engraving, simply use the CP9361 air scribe as it is supplied. The ball point carbide stylus will write on numerous surfaces with the ease of a ball point pen. Works great on metal, wood, plastic, glass, stone, and more. This pneumatic air scribe kit is great for marking tools, parts, and more. The Chicago Pneumatic CP9361-1 will write on materials up to 64 Rc hardness.
Benefits
Long lasting due to Premium quality components
Easy handling and Comfortable use
Adjustable power for a variety of applications and materials such as: metals, plastics, ceramics, and glass
Features
Highest durability in the market
Hose 8ft (2.4m) length with air filter
Convertible to a hammer or a light scaler

This Chicago Pneumatic engraving pen is available now at AirToolPro / Zampini Industrial 1-800-353-4676
Part number
T011970
Model
CP9361-1 Kit
Blows per minute
13500
Bore
-
-
Bore
-
-
Stroke
-
-
Stroke
-
-
Chisel rivet set shank
1/8"
3 mm
Chisel rivet set shank
3 mm
1/8"
Shank
Hexagonal
Net weight
0.31 lb
0.14 kg
Net weight
0.14 kg
0.31 lb
Length
5"
127 mm
Length
127 mm
5"
Average air consumption
0.75 l/mn
0.28 cfm
Average air consumption
0.28 cfm
3/4 l/mn
Actual air consumption
0.1 l/s
0.21 cfm
Actual air consumption
6 l/mn
0.21 cfm
Actual air consumption
0.21 cfm
6 l/mn
Air inlet thread size
0.25 "
Min. hose size
3/16"
5 mm
Min. hose size
5 mm
3/16"
Sound dBa pressure
79 dBa
Sound Power
90 dBa
Vibration (ISO-8662-14)
4.2 m/s²
Vibration α (ISO-28927-9)
5.1 m/s²
Vibration K (ISO-28927-9)
2.4 m/s²

Please Call Us For Your Best Price
Established in 1901, Chicago Pneumatic Tools offers hundreds of quality air tools designed for a wide range of maintenance and production applications: impact wrenches, ratchet wrenches, screwdrivers, drills, grinders, sanders and polishers, cutting tools, and a whole lot more. Based on decades of expertise in providing the right tools, compressors or construction equipment for the toughest demands, CP understand the needs of the professionals for maintaining and repairing heavy equipment and machinery on-site or off-site.
Zampini Industrial Group is proud to be a premier online supplier of Chicago Pneumatic Tools, and our numerous years representing the CP brand has provided us with a wide range of valuable application experiences that we use to help you get the perfect CP tool for your job!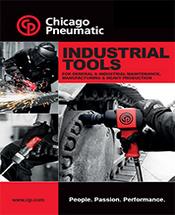 CP Chicago Pneumatic Industrial Tools
View All
Close