Chicago Pneumatic CP7773 1" Impact Wrench | 950 Ft Lbs

SKU:

8941077730

UPC:

Shipping:

Calculated at Checkout
Description
Chicago Pneumatic CP7773 - Compact & Powerful 1" Air Impact Wrench for General Maintenance
Benefits
Ideal for General Maintenance applications
Powerful motor and durable clutch
Operator comfort due to reduced noise level
Features
1" pistol impact wrench with ring retainer
Twin hammer clutch
High power: 1200 ft.lbs (1627 Nm)
Compact size with only 12,1 lbs (5.25 kg)
Combined power regulator with forward/reverse
Be sure to also check out the Chicago Pneumatic CP7731C Stubby Impact Wrench!
Available now at AirToolPro / Zampini Industrial 1-800-353-4676
Part number
8941077730
Model
CP7773
Handle type
Pistol
Square drive
1"
Working Torque Range (fwd)
136-1,288 Nm
100-950
Working Torque Range (fwd)
100-950 ft.lbs
136-1,288
Maximum Torque (reverse)
1630 Nm
1200 ft.lbs
Maximum Torque (reverse)
1200 ft.lbs
1630 Nm
Free speed
6300 rpm
Blows per minute
900
Net weight
12.05 lb
5 1/2 kg
Net weight
5.5 kg
12.05 lb
Power/weight ratio
296.363636363636 Nm/kg
99.5850622406639 ft.lb/lb
Power/weight ratio
99.5850622406639 ft.lb/lb
296.363636363636 Nm/kg
Length
9.2"
234 mm
Length
234 mm
9.2"
Side to center
45 mm
1.8"
Side to center
1.8"
45 mm
Average air consumption
7.5 cfm
Average air consumption
3.5 l/s
7.5 cfm
Actual air consumption
30 cfm
Actual air consumption
14.2 l/s
30 cfm
Air inlet thread size
0.375 "
Min. hose size
13 mm
1/2"
Min. hose size
1/2"
13 mm
Noise level
96 dBa
Sound Power
107 dBa
Vibration (ISO-8662-7)
9 m/s²
Vibration α (ISO-28927-2)
10.4 m/s²
Vibration K (ISO-28927-2)
4.2 m/s²
Socket retainer
Friction ring
Clutch type
Twin hammer

Please Call Us For Your Best Price
Established in 1901, Chicago Pneumatic Tools offers hundreds of quality air tools designed for a wide range of maintenance and production applications: impact wrenches, ratchet wrenches, screwdrivers, drills, grinders, sanders and polishers, cutting tools, and a whole lot more. Based on decades of expertise in providing the right tools, compressors or construction equipment for the toughest demands, CP understand the needs of the professionals for maintaining and repairing heavy equipment and machinery on-site or off-site.
Zampini Industrial Group is proud to be a premier online supplier of Chicago Pneumatic Tools, and our numerous years representing the CP brand has provided us with a wide range of valuable application experiences that we use to help you get the perfect CP tool for your job!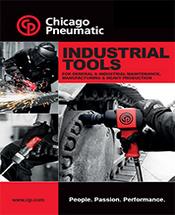 CP Chicago Pneumatic Industrial Tools
View All
Close