Drills and Tappers
Product
Qty in Cart
Quantity
Price
Subtotal
Adding your products to cart
Zampini Industrial Group has been providing drilling equipment, accessories, and engineering expertise to companies across the USA and beyond since 1985 and we pride ourselves on being drilling experts. No matter what type of material, hole, or environment you are drilling in our engineers can help you find the most effective and efficient means of getting your drilling work done.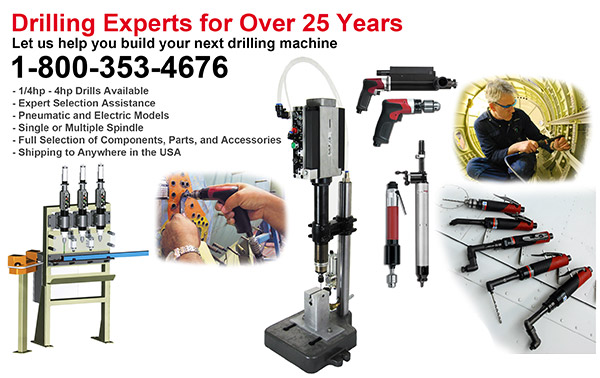 Production level drilling operations require performance, precision, and reliability. Our selection of pneumatic air drills and tappers brings you these qualities and much more. We offer the highest quality and most recognized lines of handheld air drills, fixtured drills, rack feed drills, auto feed drills and more from Desoutter, Chicago Pneumatic, Cleco, Dotco, Ingersoll Rand, Sioux and more.
Handheld pneumatic air drills are available in straight case configurations for small diameter and production line drilling, pistol grip configurations for general industrial drilling, and angle head configurations including right angle, 30 degree, 45 degree, and 90x90 degree variations for restricted access drilling. Pneumatic air drills can be supplied with RPMs up to 20,000 and up to 1 HP motors making them capable of drilling up to 1/2" holes in steel. Key and keyless chucks, collet chucks, and screw shank outputs are also available options.
Pneumatic Feed and Drive and Pneumatic Feed with Electric Drive automatic feed drills are perfect for applications in which repeated precision hole drilling is required. Available in both pneumatic and electric drive configurations up to 1.5 HP; feed drills are simple but robust drilling machines capable of drilling to an exact depth with only a single start signal. All that is needed is to supply air or electricity, place them in the mounting brackets, and give them a start signal. Handheld air powered drills offer portability and power to applications where automatic feed drills cannot be used.