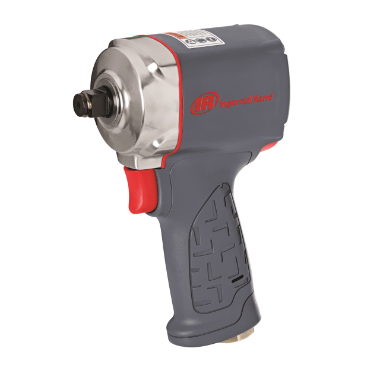 Ingersoll Rand, a global leader in reliable and innovative power tools, now offers the 35MAX and 15QMAX Ultra-Compact Impactools, small, yet powerful tools that technicians and operators can use to quickly loosen or tighten a variety of fasteners in confined spaces. The 35MAX and 15QMAX pneumatic impact tools feature high power-to-weight ratios, an easy-to-operate regulator dial with three power settings, and push button forward and reverse capabilities.
"The access points in vehicle frames are getting increasingly confined and common impact tools cannot fit in areas that need servicing," said Michael Cafferty, product manager for Ingersoll Rand Power Tools. "Lightweight yet powerful, Ingersoll Rand Ultra-Compact Impactools help technicians and equipment engineers get the job done right every time."
Each tool has three power settings, as well as full max reverse torque at all levels, so that technicians can insert and loosen fasteners on a variety of equipment and vehicles. The power regulator and push-button forward/reverse buttons are located on the back of the tool so that it can be easily operated in confined areas with one hand. In addition, the new ergonomic design and unique twin hammer mechanism reduce vibration to give operators better control during use. Both tools weigh 2.4 pounds and are 4.6 inches long.
Lightweight, Ultra-Compact Impactools Feature High Torque and Leading Reliability The 35MAX Ultra-Compact impact tool has a half-inch square drive and 450 foot-pounds of maximum reverse torque. The 15QMAX impact has a three-eighth inch square drive and 380 foot-pounds of maximum reverse torque, along with premiere quiet technology to reduce the amount of noise the tool creates.
With the same high-durability construction as popular Ingersoll Rand Impactools and composite housing, rigorous internal testing methods indicate that the lifetime of each Ultra-Compact tool is twice as long as competitive products available today. Both tools also include a two-year warranty.
Both tools can be used in a variety of applications including:
Vehicle repair and maintenance: tire and wheel lug nuts, engine bays, brake hubs, axle wheel nuts, interior dashboard components, support brackets, and undermount installation and repair
Industrial machine maintenance
Manufacturing equipment repair
Machinery installation
Equipment disassembly
Recent Posts
This Article Was Published By Ingersoll RandDate: May 15, 2020This protocol is subject to the recomm …

[Scroll down for the Tap Off video] You already know that any FlexArm can save your shop a bunc …

The all new W7152 is the most powerful ½" cordless impact wrench in its class. Delivering 1500 ft-lb …