Description
The Most Powerful, Most Reliable, Highest Quality 1" Impact Wrench On The Market!
Availability: In Stock Now - Buy your 3940B2Ti by 2:45 EST and we'll ship today!

The Ingersoll Rand 3940B2Ti is one of the best 1" impact wrenches in it's class featuring a number of top tier features. To start, this Ingersoll Rand 1" titantium impact wrench is proudly MADE IN THE USA. Ingersoll Rand is a company that is considered by many to be the inventor of the impact wrench, or impactool as they often call them, and has become a name recognized for reliability, performance, and quality. The advanced engineering and manufacturing capabilities of Ingersoll Rand set a standard of industrial impact wrench production that competitors are constantly trying to copy with little if any success.

The most impressive and obvious feature of the 3940B2Ti is the titanium hammer case that makes up the nose of the tool, making it the lightest and most durable hammer case available.

Power output is important to most users, and the high performance motor package that comes standard on the 3940B2Ti makes sure that the tool puts out the most power in it's class! The foundation of this package is a Twin Hammer impact mechanism which is the strongest and most durable impact mechanism in the industry. In addition, it includes a 7 vane motor and bronze endplates which are top-tier premium features not found elsewhere. Ingersoll Rand used endplates manufactured out of bronze to provide superior durability to one of the highest wear points on the tool, adding to it's advantages over other 1" super duty impact wrenches.

To keep the power going there is a Corrode-X coating on all internal parts to guard against contaminants in the air supply. The pressure fed lubrication system automatically greases the impact mechanism continually.

With these features it is impossible to argue that the 3940B2Ti is the only choice for professionals in demanding industries that require a 1" impact.
1/2" NPT inlet
Through-hole socket retainer
Built-in power regulator
Pressure-feed mechanism lubrication
Durable epoxy-coated handle/housing
Integral muffler
Twin Hammer mechanism
Bronze endplates
Titanium hammer case
7-vane reverse bias motor
Choice of 1" square or No. 5 spline
| | |
| --- | --- |
| Model | 3940B2Ti |
| Description | 1" square |
| Handle | Grip I.T. |
| Free Speed rpm | 6,000 |
| Impacts per minute | 800 |
| Max Torque ft-lb (Nm) | 2,500 (3390) |
| Recomm. Torque Range ft-lb (Nm) | 500-1,650 (680-2240) |
| Weight Less Socket lb (kg) | 21.2 (9.6) |
| Length Less Socket in (mm) | 13.5 (343) |
| Side to Center Distance in (mm) | 2.3 (59) |
| Recommended Hose Size in (mm) | 3/4 (19) |
| CFM (L/min) | 64 (1812) |
Additional part numbers used for the 3940B2Ti:
G3107623
1FYD5
383-3940B2Ti
0256049
44208023
UNSPSC# 27112713
4590C313B3B
663023048383
05507445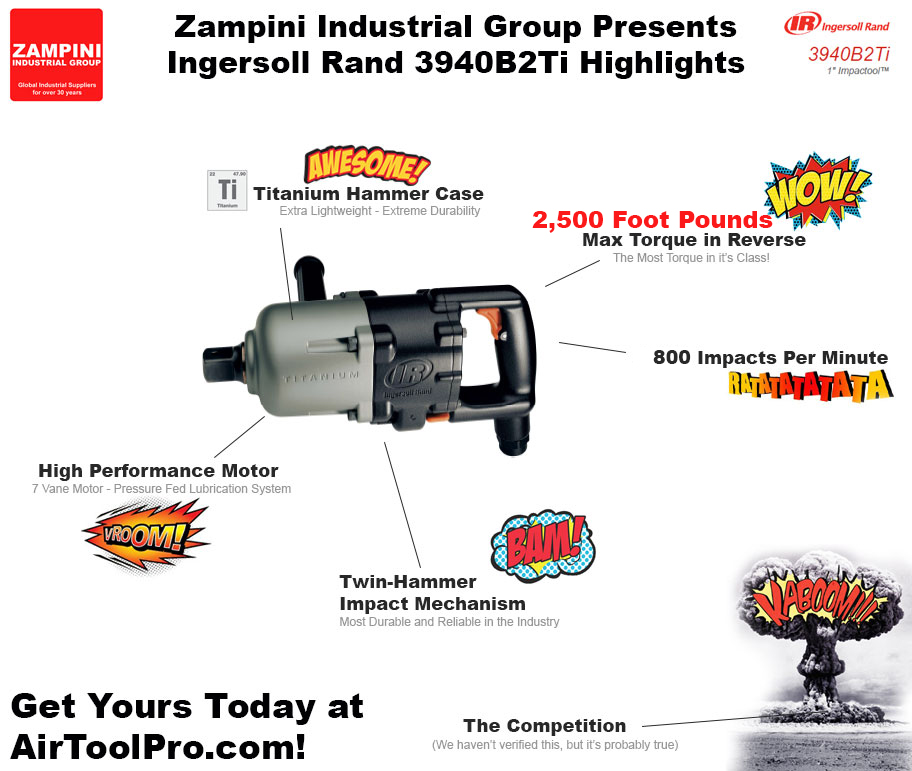 If you have any questions or would like a quote or to order your very own IR 3940B2Ti, please feel free to visit us at AirToolPro.com or call us at 1-800-353-4676 and we would be glad to help you! Our product knowledge and extent is our specialty!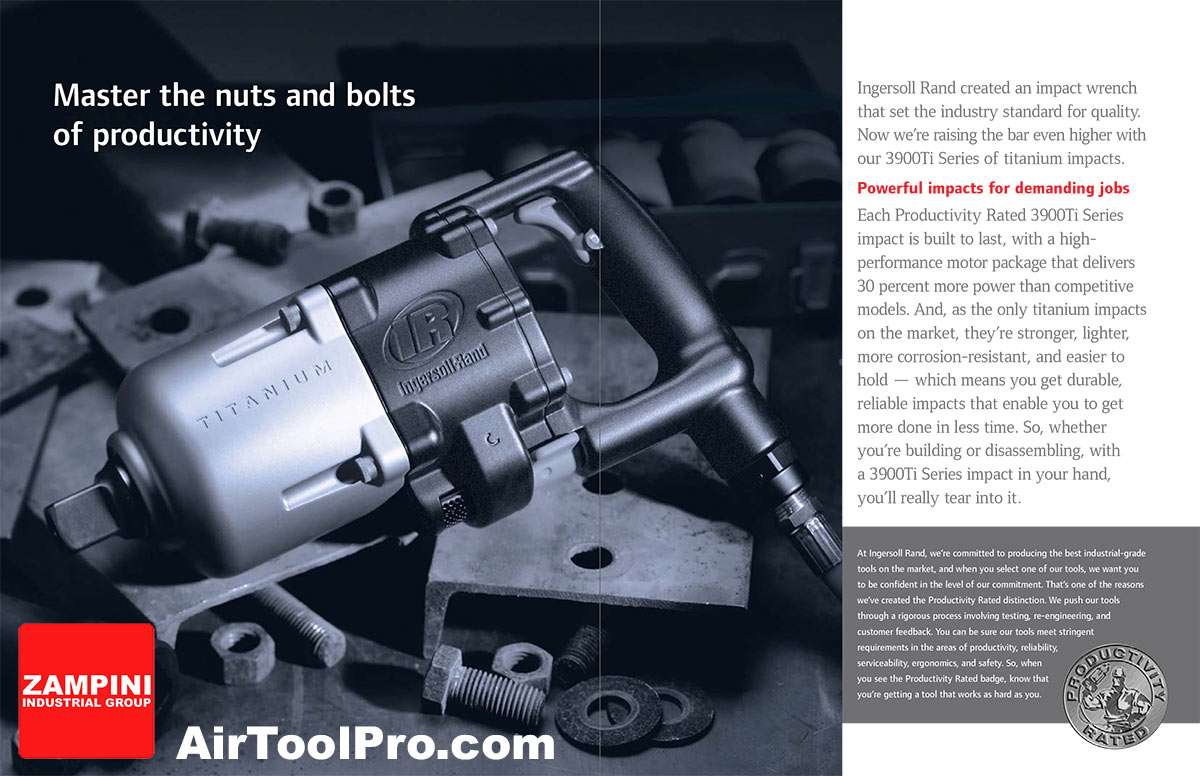 3940B2Ti Parts Breakdown Diagram and List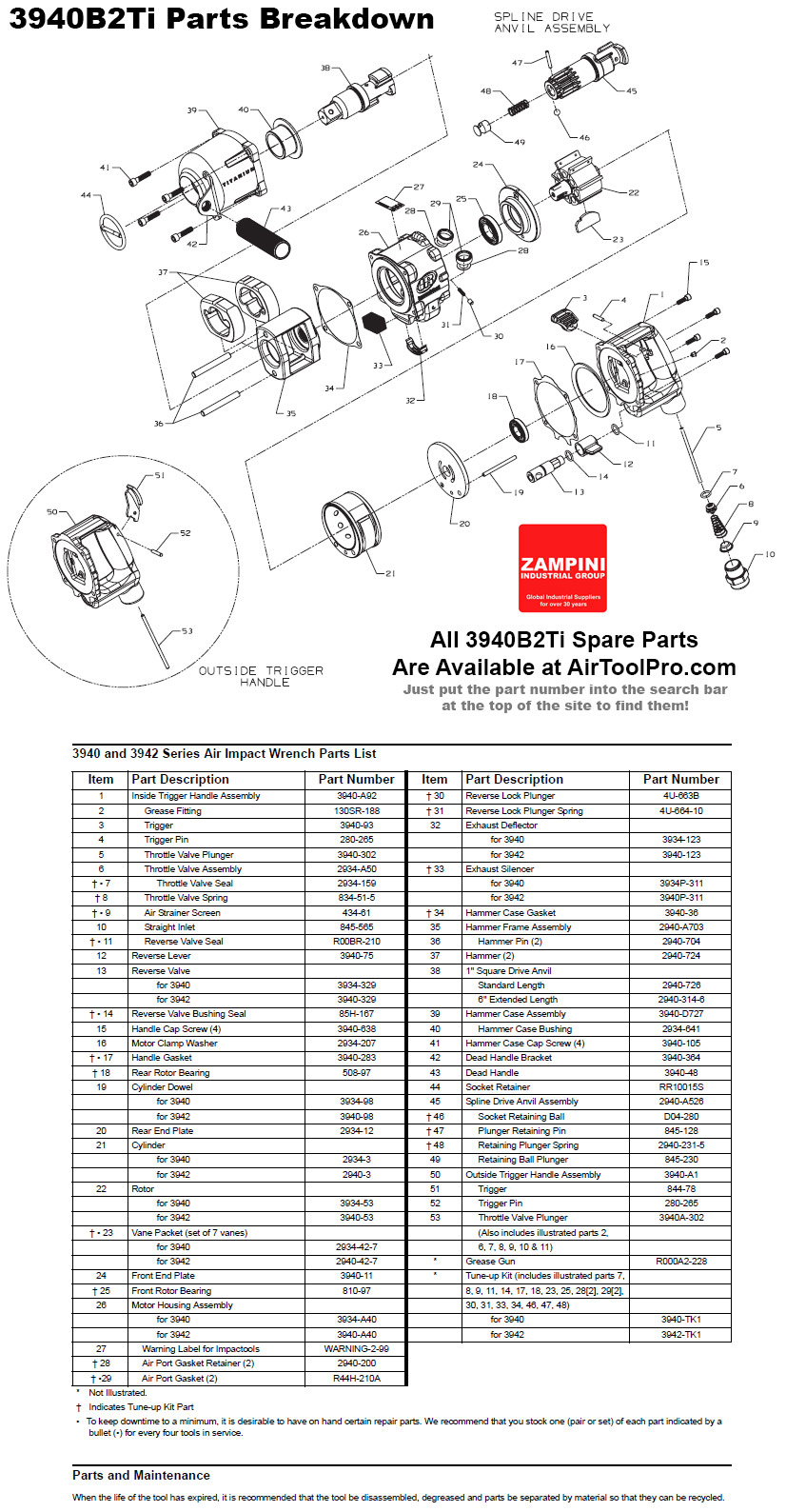 3940B2Ti PDF Technical Documents

CCN Number 10568301
Last updated on August 3rd 2021 - ATP115
View All
Close
Warranty Information
1 Year Manufacturer's Warranty by Ingersoll Rand
View All
Close